Student Employee of the Year Contest
Here's the Requirements:

(1) Teacher nominates employee that served store/cafe well.

(2) Can nominate no more than 3 student employees.

(3) Email stories why student was an amazing employee

(4) Attach pictures of this employee working @ the store/cafe

(5) Only Schools who are our POS Clients are eligible.

(6) Top 3 Winners chosen by independent committee

(7) Top Prize $1,000.00

info@Schoolpos.com

Contest Deadline: 5/31/18
Here's a Past Student Employee Winner:
Congratulations Kris Anderson of Midland Dow High School, for winning our Employee of the Year Contest and brand new laptop. Kris has demonstrated great proficiency and determination in his two station POS school store. His teacher, Ms. DeBoer, is lucky to have such a dedicated student. Below is her recommendation for this award. We got many great submissions this year but we could only choose one winner, be sure to keep up the hard work and you may be our employee of the year in 2015.
"I want to put my student manager up for employee of the year. His name is Kris Anderson. Kris deserves to be employee of the year because he goes beyond all expectations all the time. He supported the store through its first mobile football season by not attending just his one mandatory game but numerous games. In addition, he has worked well beyond his share of after school activities at the store including Open Houses, Parent Night, Parent Teacher Conferences and many other events. Kris not only works his required shifts during the week but checks daily with the other managers to see if they need assistance. This year Kris took an online marketing class and when he was done with the class he came to me everyday to see what he could do to help with the Charger Shoppe. Kris initiated a plan for our store to become SBE Certified. Kris worked with another manager and one employee to ensure we submitted the documentation. In one month time he completed the work and we are now Silver Certified and I am sure with his help will be on our way to becoming Gold for next year. He is an amazing young man with a positive attitude and looks at everything as an opportunity for growth for himself and the store. I can not imagine any other person more deserving of this award than Kris Anderson!"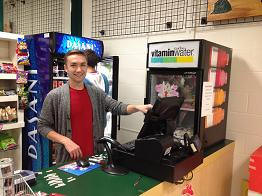 Be sure to "like" our facebook page!